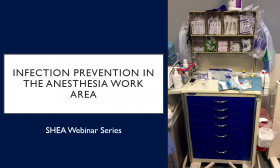 Infection Prevention in the Anesthesia Work Area
In this series, the authors of the new SHEA expert guidance, developed in collaboration with ASA and other anesthesia provider organizations, will discuss ways hospitals and healthcare providers may reduce infections associated with anesthesiology in the operating room. A growing body of research has shown that contamination in OR anesthesiology work area can lead to patient infections. The authors will review the guidance's purpose, development, and recommendations for improving infection prevention through hand hygiene, environmental disinfection, and implementation methods and will answer questions from attendees working in infection prevention and anesthesia.
There are 3 webinars in this series:
New Guidance for OR Anesthesia: Recommendations for Preventing Infections
New Guidance for Infection Prevention in Anesthesia Q&A
Implementing Changes for Infection Prevention in Anesthesia
All webinars are recorded and posted in this course. Presentation slides and videos are also available for review.
Target Audience
Anesthesia providers (ASA, AANA, AAAA, AORN members); healthcare epidemiologists (SHEA members)
Learning Objectives
Summarize the methods and intended use of expert guidance.
Summarize reasons SHEA, ASA, and other partnering organizations undertook the development of the guidance, e.g. research indicating the need for improvements to infection prevention practices in the OR anesthesia work area.
Identify sources of potential contamination or transmission in the OR anesthesia work area.
Speakers:
Silvia Munoz-Price, MD, PhD
Dr. Munoz-Price, Chair and first author, is a Professor of Clinical Medicine at the Division of Infectious Diseases in the Medical College of Wisconsin. She currently serves as the Enterprise Epidemiologist for Fray-dert & the Medical College of Wisconsin. Until 2014, she was the Hospital Epidemiologist for Jackson Memorial Hospital, one of the largest public hospitals in the US. 
Dr. Munoz-Price holds a PhD in Epidemiology from University of Miami. She has more than 70 peer reviewed publications published in leading medical journals. Dr. Munoz-Price served as a Board member of the Society of Hospital Epidemiology of America (SHEA), and was the co-chair of SHEA's 2016 Spring Conference, and served as a liaison for CDC's Healthcare Infection Control Practices Advisory Committee (HICPAC). 

David Birnbach, MD, MPH 
Dr. Birnbach is the Miller Professor of Anesthesiology, and Professor of Obstetrics & Gynecology and Public Health Sciences at the University of Miami Miller School of Medicine. He is the Director of the University of Miami-Jackson Memorial Hospital Center for Patient Safety. In addition, Dr. Birnbach is Executive Vice Provost of the University of Miami. Dr. Birnbach is the editor of two textbooks and has published more than 250 articles, abstracts, and textbook chapters; many related to improving patient safety and reducing OR-related infections. He has been named one of the 50 Experts leading the field of Patient Safety by Becker's Review. Dr. Birnbach completed his anesthesiology residency and fellowship training at the Brigham and Women's Hospital and Harvard Medical School and a Masters of Public Health degree at Johns Hopkins Bloomberg School of Public Health.  Prior to relocating to Miami in 2002, he was a professor at Columbia University.

Andy Bowdle, MD, PhD
Dr. Bowdle is a Professor of Anesthesiology and Pharmaceutics at the University of Washington. He is a cardiothoracic anesthesiologist.  He received his MD and a PhD in Pharmacology from the University of Washington and completed a residency in anesthesiology, also at the University of Washington.  He is a Fellow of the American Society of Echocardiography.  Formerly he was the Chief of the Division of Cardiothoracic Anesthesiology for ten years.  He has written extensively about anesthetic pharmacology and edited a textbook entitled "The Pharmacologic Basis of Anesthesiology".  He is a member of the editorial board of the Journal of Cardiothoracic and Vascular Anesthesia.  His current research interests have to do with quality, safety, medical informatics and medical device innovation in anesthesia and critical care.  His research group has worked with central venous catheter safety, computerized safety and crisis checklists, handoffs, simulation training, computerized decision support, the use of video recording for quality improvement, anesthetic drug safety, monitoring of neuromuscular blockade, infection prevention and development of medical devices.  He received the Anesthesia Patient Safety Foundation 2018 award for "Best Practices for Safe Medication Administration during Anesthesia Care".

Joshua Schaffzin, MD, PhD
Dr. Schaffzin is Director of Infection Prevention & Control at Cincinnati Children's Hospital Medical Center. He received an MD and PhD from the University of Cincinnati, followed by residency at Cincinnati Children's. He then left for Public Health, as an EIS officer and Public Heath Physician at the New York State Department of Health. He returned to Cincinnati in 2010, first as a hospitalist, and then as a Pediatric ID specialist. His research interests include SSI prevention, improvement science, and behavioral aspects of infection prevention.

Richard Prielipp, MD
Dr. Prielipp is Professor of Anesthesiology at the University of Minnesota Medical School, Minneapolis, MN, where he was Chairman of the Department of Anesthesiology from 2005 to 2013. He completed nine years on the Editorial Board of Anesthesia and Analgesia, and is now the Executive Section Editor for Patient Safety for that Journal.  He is an active member of the Anesthesia Patient Safety Foundation (APSF) as a Board Director, and former Chairman of the APSF Committee on Education and Training. His clinical interests are cardiac anesthesiology, risk management, and perioperative patient safety, including evolving recognition of infectious risks embedded within our routine anesthesia practices while in the operating theatre.
Organizers:
Valerie Deloney, SHEA Staff
Jade Belcher, SHEA Staff