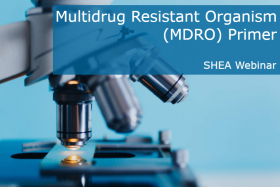 Multidrug Resistant Organism (MDRO) Primer
This webinar will provide an overview of multidrug-resistant organisms (MDROs) of significant concern among patients in the United States. The microbiology, including mechanisms of antibiotic resistance, and the associated epidemiology of MDROs will be reviewed. The webinar will conclude with an overview of infection prevention strategies to mitigate the spread of MDROs in healthcare settings.
Target Audience
Infectious disease physicians, healthcare epidemiologists, infection preventionists, infectious disease pharmacists, facilities management, hospital/environmental safety officers, ID pharmacists at acute care facilities, and administrators, nurses, and antibiotic stewards of long-term care facilities.
Learning Objectives
Describe the epidemiologic trends of the clinically significant MDROs most frequently encountered in clinical settings
Review the most prevalent antibiotic resistance mechanisms among MDROs of clinical significance
Describe risk factors and populations at highest risk for infections caused by MDROs
Review strategies for preventing MDROs in healthcare settings and discuss the public health approach to MDRO containment
 
SPEAKERS:
Maroya Walters, PhD, ScM
Lead, Antimicrobial Resistance Team
Prevention and Response Branch, Division of Healthcare Quality Promotion
Centers for Disease Control and Prevention 
PLANNERS:
David Banach, MD, MPH
Associate Professor of Medicine
Hospital Epidemiologist and Head of Infection Prevention
Division of Infectious Diseases
University of Connecticut School of Medicine
Jade Belcher
Coordinator, Education and Meetings
The Society for Healthcare Epidemiology of America