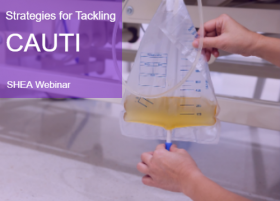 Strategies for Tackling CAUTI: It's everyone's problem
Tackling CAUTI requires a multidisciplinary and multimodal approach. This webinar will review practical strategies and overcoming implementation challenges for building a multipronged approach to CAUTI prevention including engagement of clinical staff, nurse driven foley removal protocols, automated order sets, reflex urine testing and re-defining the foley catheter as a major procedure.
Target Audience
Infection preventionists, Healthcare Epidemiologists, Infectious diseases physicians
Learning Objectives
Development and implementation of algorithms and order sets which utilize evidence-based definitions of UTI symptoms to decrease over-diagnosis of CAUTI 
Outline strategies for engaging nurses to utilize a nurse-driven foley catheter removal protocol, engaging physicians for daily assessment of foley catheter necessity, exploring alternative strategies other than foley and overcoming barriers to implementation.
Improve diagnostic stewardship with implementation of reflex urine culture algorithms. Describe successes and pitfalls of reflex urine culture algorithms as a strategy to reduce the number of inappropriate urine cultures.
Drive culture change within an organization to decrease the perception of the foley catheter as a benign intervention and increase the understanding of it as a procedure which carries risk, including training, and competency for insertion and maintenance of catheters.
SPEAKERS:
Sarah Krein, PhD, RN
Research Professor
VA Ann Arbor HCS and
University of Michigan
Sarah Hochman, MD
Associate Hospital Epidemiologist
NYU Langone Health
PLANNERS:
Theresa F. Madaline, MD
Division of Infectious Diseases,
Albert Einstein College of Medicine
Bhagyashri D Navalkele, MD
Assistant Professor, Division of Infectious Diseases
Medical Director, Infection Prevention
University of Mississippi Medical Center
Jade Belcher
Coordinator, Education and Meetings
The Society for Healthcare Epidemiology of America