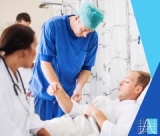 The Society for Healthcare Epidemiology of America is proud to present Outbreak Prevention and Response Week. During the week, SHEA and its partners will share resources with healthcare professionals, the infection prevention community, and patients and families on ways to prevent the spread of infectious diseases.
Category
Preparing and Responding to Emerging Infectious Diseases and Outbreaks
Credits
SHEA's Rapid Response Program - Confronting RAPID emerging issues, cutting edge science, and unanswered questions to keep you prepared for RESPONSE.
Category
Preparing and Responding to Emerging Infectious Diseases and Outbreaks
Credits