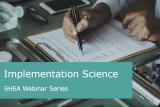 This series provides an overview of the principles and tools of implementation science, and strategies to move evidence-based guidelines and research into consistent healthcare practice.
Credits
AMA PRA Category 1 Credit™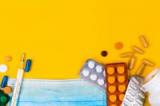 This webinar will review how acute care institutions can initiate a successful antibiotic stewardship program. An emphasis will be placed on best practices for overcoming implementation barriers and setting up a program you can measure for success.
Category
Antimicrobial Resistance and Antibiotic Stewardship
Credits
ABIM MOC
AMA PRA Category 1 Credit™
Participation

Due to the cancellation of Decennial Day 2020 because of the COVID-19 pandemic, Decennial Day at SHEA Spring took place on April 12th, 2021. 
Category
Antimicrobial Resistance and Antibiotic Stewardship
Infection Prevention and Control
Preparing and Responding to Emerging Infectious Diseases and Outbreaks
Format
Webinar recorded
Webinar live
Credits
ABIM MOC
AMA PRA Category 1 Credit™
Participation