SHEA's Rapid Response Program - Confronting RAPID emerging issues, cutting edge science, and unanswered questions to keep you prepared for RESPONSE.
Category
Preparing and Responding to Emerging Infectious Diseases and Outbreaks
Credits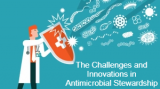 Utilizing antimicrobial stewardship (AS) to properly use antibiotics is critical for all healthcare settings to decrease antibiotic resistance, reduce the development of multidrug-resistant organisms, and put the patient first.
Category
Antimicrobial Resistance and Antibiotic Stewardship
Credits
ICHE is the official publication of the Society for Healthcare Epidemiology of America (SHEA). The journal is written by infection prevention and control experts and epidemiologists and is guided by its editorial board. ICHE Editors thank you for being a reviewer! Earn your CME credit today.
Credits
AMA PRA Category 1 Credit™