As COVID-19 has shown, communication and trust with the public are essential for healthcare professionals. This multi-part podcast series will focus on how HCPs can communicate not only with their patients, but also the public.
Category
Antimicrobial Resistance and Antibiotic Stewardship
Infection Prevention and Control
Preparing and Responding to Emerging Infectious Diseases and Outbreaks
Surveillance and Public Reporting
Credits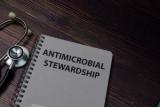 This series will discuss communication techniques for antimicrobial stewardship, evaluate the opportunities and limitations of antimicrobial IV to PO conversion, and identify best practices when shortening durations of therapy.
Category
Antimicrobial Resistance and Antibiotic Stewardship
Infection Prevention and Control
Credits
This series will identify new or emerging technologies that can be leveraged to improve patient safety, data quality, and efficiency; describe the advantages and disadvantages of recent innovations; and recognize strategies to demonstrate success or lack thereof and substantiate implementation of
Category
Antimicrobial Resistance and Antibiotic Stewardship
Infection Prevention and Control
Credits