David Pegues, MD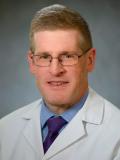 CV:
Download
(465.72 KB)
David Pegues, MD, is a Professor of Medicine and is the Medical Director of Healthcare Epidemiology, Infection Prevention and Control and Co-Director of the Antimicrobial Stewardship Program at the Hospital of the University of Pennsylvania. His current research interests include developing clinical decision support tools to reduce the inappropriate use of medical devices and to improve microbiology testing and antimicrobial therapy for infectious disease diagnosis and management; evaluating novel technologies and implementation strategies to reduce environmental microbial contamination and infection risk; and the epidemiology and prevention of infections in solid organ transplant recipients.
Financial relationships
Disclosure
Yes, I have had a relevant financial relationship within the past 12 months.
Financial relationships:
Type of financial relationship:
Type of financial relationship:
Type of financial relationship:
Type of financial relationship:
Return to Prevention CHKC