The Society for Healthcare Epidemiology of America will be leading Outbreak Prevention and Response Week from September 17-21, 2018. During the week, SHEA and its partners will share resources with healthcare professionals, the infection prevention community, and patients and families on ways to prevent the spread of infectious diseases.
Category
Infection prevention & control
Credits

Listen to the following SHEA Podcast Series: "Stewardship: Practical Approaches and Applications (Ripped from the Hallways)." Learn of topics such as Upper Respiratory Infections and the Role of Antimicrobials, The Big Picture on UTI, Changing the Culture of Culturing, and How to impact CDAD rates by antimicrobial stewardship (ASP) activities.
Category
Antimicrobial stewardship
Credits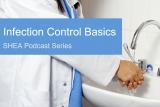 Listen to the SHEA podcast series: Infection Control Basics, and learn about the core concepts such as the infection control/prevention program structure and function, NHSN HAI program definitions and evaluation, and how to differentiate between the surveillance definitions and clinical definitions.
Category
Infection prevention & control
Credits