Seetha Lakshmi, MD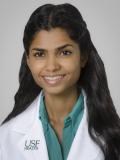 CV:
Download
(34.44 KB)
My research interests originate from the need to better understand factors that impact patient care and improve these processes of care delivery. My Introduction to research began as a medical student where I spent time understanding the psychosocial factors affecting HIV care delivery in India. This helped to improve coordinated social work services to HIV patients along with medical management of their infection. As a resident in internal medicine at Cleveland Clinic Florida I engaged in improving antibiotic delivery processes in the medical ICU. This quality improvement project resulted in decreased time from order placement to delivery of antibiotics in the medical ICU. During this project I learnt important aspects of quality improvement techniques and the need for collaborative approach to change organizational culture. As I progressed into the role of a fellow I noticed that models for care delivery for primary care and Hepatitis C (Hep C)treatment in HIV infected patients varied widely. This led to a nationwide survey of infectious disease physicians to better understand the complexities of HIV primary care delivery. The results from this study address the needs of front line HIV care providers in order to deliver quality primary care to the aging HIV population. The study on Hep C treatment in HIV patients focused on care delivery models in 3 different hospital settings (The Veterans affairs hospital in Miami, University of Miami-a large private academic institution and Jackson Health system-a public academic institution). This study was able to explore the advantages of each care delivery system and advocate for the model that provided the best outcomes for Hep C cure. In my current role as a clinician, researcher and educator, I am engaged in many quality improvement projects and work closely with the hospital infection prevention team. Our current Clostridium difficle work group (in which I work as a faculty lead) has been able to decrease our hospital C. diff infections by 20%. This effort involved use of Quality Improvement (QI) methodology and a multidisciplinary approach involving antibiotic stewardship team, microbiologist, infection prevention team, and other key stakeholders. As the Assistant program director of Infectious Disease Fellowship program at University of South Florida I am also involved in training the future generation of Infectious Disease Physicians
Financial relationships
There are no financial relationships to disclose.
Return to Prevention CHKC