Erik Dubberke, MD, MSPH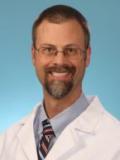 Dr. Dubberke is a Professor of Medicine at Washington University School of Medicine in St. Louis, where he has been a faculty member in the Division of Infectious Diseases since 2005. He is an Associate Hospital Epidemiologist at Barnes-Jewish Hospital, Medical Director of Infection Control at Missouri Baptist Medical Center, and is the Clinical Director of the Transplant Infectious Diseases service at Washington University. He attended medical school at University of Illinois at Chicago, and did his medicine and infectious diseases training at Barnes-Jewish Hospital/Washington University. He received a Master's of Science in Public Health from St. Louis University.
His main research interests are in the epidemiology, diagnosis, treatment, and prevention of Clostridioides difficile infection (CDI). Dr. Dubberke has over 135 publications, and made the Thomson Reuters / Clarivate Analytics list of Highly Cited Researchers from 2015 to the present. He was the lead author for the CDI component of the Society for Healthcare Epidemiology of America (SHEA) Compendium to Prevent Healthcare Associated Infections, and was on the IDSA/IDSA CDI clinical guidelines update committee. He has also represented SHEA as a Key Informant for the AHRQ Evidence-based Practice Center C. difficile review and at the Department of Health and Human Services Road Map to Eliminate HAI 2013 Action Plan Conference.
Return to Prevention CHKC