Cassandra Salgado, MD, MS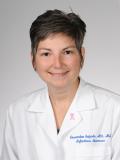 Dr. Salgado is currently a Professor of Medicine and Public Health and Division Director for Infectious Diseases at the Medical University of South Carolina where she also serves as the Hospital Epidemiologist and Medical Director for Infection Prevention.
She is from West Virginia and completed her undergraduate work, MD degree, and Internal Medicine and Pediatric residency at WVU. From there she completed a research ID fellowship under the mentorship of Barry Farr. She has been at MUSC for almost 15 years, is an active clinician and educator for trainees at all levels. Her research has focused on preventing the spread of epidemiologically important organisms in acute care and ultimately preventing patient harm by reducing healthcare acquired infections.
Financial relationships
Ineligible company:

Wolters Kluwer Health- Textbook Royalties

Ineligible company:

Oxford Press- Textbook Royalties
Return to Prevention CHKC