Mohamad Fakih, MD, MPH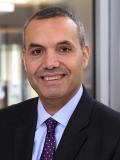 Mohamad Fakih, MD, MPH, FSHEA, FIDSA is the senior medical director at Care Excellence, Ascension Healthcare. He leads the Center of Excellence for Antimicrobial Stewardship and Infection Prevention in a large nonprofit health system in the United States. He works on methods to optimize antimicrobial stewardship and prevent healthcare-associated infections. He has led Infection Prevention efforts at Ascension over more than 10 years, with a focus on reduction of hospital acquired conditions and device harm. He has promoted the infection preventionist role as a key stakeholder in the efforts to reduce infection risk. His work also includes integration of best practices into the electronic medical records to reduce infection risk, and taking advantage of clinical decision support software to provide infection preventionists with more efficient workflow.
Dr. Fakih's contributions include the creation of comprehensive toolkits to promote the appropriate utilization urinary catheters in the hospital setting, and the emergency department; reducing peripheral venous catheter risk; preventing Clostridium difficile infection; and appropriate antimicrobial use and culturing/testing stewardship. Dr. Fakih is Professor of Medicine (FTA) at Wayne State University School of Medicine, Detroit, Michigan. He is board certified in Infectious Diseases, and carries an executive Masters degree in Health Management and Policy from University of Michigan, Ann Arbor, Michigan. He has authored more than 60 peer-reviewed articles and more than a 100 published abstracts.
Return to Prevention CHKC