Mayar Al Mohajer, MD, MBA, CAQ, CPHQ, FACP, FIDSA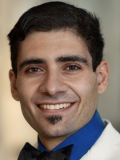 CV:
Download
(0 bytes)
Dr Mayar Al Mohajer completed his medical school at the University of Damascus followed by an internal medicine residency at the University of Cincinnati and an infection diseases fellowship at Baylor College of Medicine. He is currently an Associate Professor at Baylor College of Medicine and the medical director of infection prevention and antibiotic stewardship at Baylor St. Luke's Medical Center. He serves on the Department of Medicine Vice Chair group for quality improvement and innovation. He developed a new track for ID fellows in infection prevention, antibiotic stewardship, quality improvement and leadership.
Financial relationships
There are no financial relationships to disclose.
Return to Prevention CHKC