Hana Hakim, MD, MS, CIC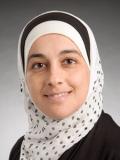 Dr. Hakim is an Associate Member in the Department of Infectious Diseases and the Medical Director of Infection Prevention and Control at St. Jude Children's Research Hospital in Memphis, TN. Dr. Hakim obtained her MD degree from the American University of Beirut in Lebanon and completed her pediatric residency at the Women and Children's Hospital of Buffalo, NY. She completed Pediatric Infectious Diseases fellowship training at the University of Tennessee in Memphis, followed by a one-year subspecialty fellowship program in pediatric HIV/AIDS at St. Jude Children's Research Hospital. During training, she obtained a Master of Science degree in Epidemiology from the University of Tennessee Health Sciences Center. She is also board certified in infection control. Her interests and clinical research have focused on the epidemiology, prediction, and prevention of infections in the pediatric oncology and stem cell transplant patient population.
Financial relationships
There are no financial relationships to disclose.
Return to Implementing Antibiotic Stewardship Programs in Acute Care Settings