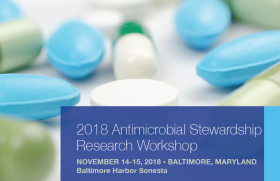 2018 Antimicrobial Stewardship Research Workshop Recordings
Antibiotic resistance is a serious global danger. Without urgent action many modern medicines could become obsolete, turning even common infections into deadly threats. You have an opportunity to improve the use of antibiotics and be a part of solving this critical public health issue. Learn from the experiences and settings of your colleagues. Get the tools to design, deploy, and evaluate antimicrobial stewardship projects. Hear from industry experts and form research partnerships that could last your entire career. Make a difference in antimicrobial stewardship.
View the Final Program here - 
SHEA-November-Workshop-Onsite-Program-2018.pdf
This Workshop was made possible by a grant provided by MERK

Co-Organizers include: IDSA, PIDS, and SIDP

Target Audience
This activity is designed for pediatric and adult infectious diseases physicians, healthcare epidemiologists, microbiologists, pharmacists, and other healthcare providers who are involved with creating, implementing, or improving an antimicrobial stewardship program for their healthcare institution. Healthcare professionals representing all sizes of institutions will find the content relevant to their needs.
Learning Objectives
Provide a detailed overview of the various research methods available to assess antimicrobial stewardship
Design, implement and disseminate research projects related to antimicrobial stewardship efforts 
Planning Co-Chair
Elizabeth Dodds-Ashley, PharmD,MHS
Disclosed no relevant financial relationships
Ebbing Lautenbach, MD, MPH, MSCE
Consulting Fees: Achaogen
Contracted Research: NIH, AHRQ, CDC
Marc Scheetz, PharmD, MSc, BCPS-AQ ID
Consulting Fees: Achaogen, SIGA Technologies,
Paratek, Bayer
Contracted Research: CARE Foundation, Merck and Co
Planning Co-Chair
Jeffrey S Gerber, MD, PhD
Disclosed no relevant financial relationships
Jeffrey Linder, MD, MPH, FACP
Disclosed no relevant financial relationships
Mary Staicu, PharmD
Disclosed no relevant financial relationships
Deverick Anderson, MD, MPH
Disclosed no relevant financial relationships
Daniel Livorsi, MD
Grant or Contract: Merck Investigator Studies
Program
Vanessa Stevens, PhD
Disclosed no relevant financial relationships
Whitney Buckel, PharmD
Independent contractor: Wolters-Kluwer;
Lexicomp
Educational grant: Merck
Preeti Malani, MD, MSJ
Disclosed no relevant financial relationships
Julie Szymczak, PhD
Disclosed no relevant financial relationships
Alan Gross, PharmD BCPS-AQ ID
Disclosed no relevant financial relationships
Jessina McGregor, PhD
Grant or Contract: Merck
Pranita Tamma, MD, MHS
Grant or Contract: Merck
Adam L. Hersh, MD, PhD
Contracted Research: CDC Grant: AHRQ
Rebekah Moehring, MD, MPH
Royalty: UpToDate, Inc
Theoklis Zaoutis, MD, MSC
Disclosed no relevant financial relationships
Robin Jump, MD, PhD
Grant/Contract and Advisory Board: Pfizer
Advisory Board: Merck
Melinda Neuhauser, PharmD, MPH, FASHP, FCCP
Disclosed no relevant financial relationships
 
Staff:
Laure Herzog - Disclosed no relevant financial relationships
Jessica Johnson - Disclosed no relevant financial relationships
Jade Belcher - Disclosed no relevant financial relationships
Lindsay MacMurray - Disclosed no relevant financial relationships