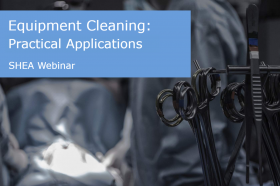 Equipment Cleaning: Practical Applications
This webinar will provide participants with an understanding of the role that contaminated surfaces and reusable patient care equipment play in the transmission of pathogenic organisms, the key considerations for selection of an optimal disinfectant, guidance on cleaning and disinfecting protocols for surfaces and equipment and methods for assessing compliance with these protocols.
This webinar will be recorded. The recorded webinar and presentation slides will be uploaded into the course after the live event.
Target Audience
Infectious diseases physicians, Healthcare Epidemiologists, Infection Preventionists, quality program leaders, environmental services program managers, nurse managers/leaders and other healthcare workers involved in developing or reviewing facility infection prevention and control policies and procedures. 
Learning Objectives
Understand the Spaulding criteria for differentiating low-level disinfection, high-level disinfection and sterilization for patient care devices.
Identify the key considerations for the selection of an optimal disinfectant for surfaces and reusable noncritical patient care equipment.
State the key principles for cleaning and disinfecting of surfaces and equipment.
Distinguish the methods for evaluating the thoroughness of cleaning and disinfection.
Speaker:
Deverick Anderson, MD, MPH
Planners:
Joan Hebden, RN, MS, CIC, FAPIC
Muhammad Salman Ashraf, MBBS
Jade Belcher, SHEA Staff