Marci Drees, MD, MS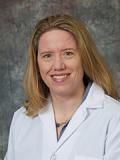 Marci Drees, MD, MS, is the Infection Prevention Officer and Hospital Epidemiologist at Christiana Care Health System in northern Delaware, and Associate Professor of Medicine at the Sidney Kimmel Medical College at Thomas Jefferson University in Philadelphia. Before beginning her work at Christiana Care in 2007, she completed her Infectious Diseases fellowship at Tufts Medical Center in Boston, and served as an Epidemic Intelligence Service (EIS) Officer with the CDC, stationed with the Delaware Division of Public Health. In addition to her hospital epidemiology work, she cares for patients with HIV and hepatitis C as part of Christiana's Ryan White funded HIV program.
Dr. Drees is active with SHEA, serving on the Education Committee since 2016, and previously served on SHEA's Research Committee (2012-2016). She remains active with the SHEA Research Network, and was the recipient of the SHEA Young Investigators Epi-Project award in 2012. She also serves on IDSA's Diagnostics Committee as the SHEA liaison.
Financial relationships
There are no financial relationships to disclose.
Return to Journal CME 2019