Robin Jump, MD, PhD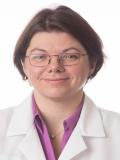 CV:
Download
(117.52 KB)
Dr. Jump is an Infectious Diseases physician at the Louis Stokes Cleveland Veterans Affairs Medical Center and an Associate Professor at Case Western Reserve University. She has research funding from the VA, CDC and AHRQ. Her long-term academic interests are to support antimicrobial stewardship in post-acute and long-term care settings in the VA and community. Currently, Dr. Jump is the chair of the Infection Advisory Committee for AMDA—the Society for Post-Acute and Long-Term Care Medicine and also serves on committees with the Society of Hospital Epidemiology of America.
Financial relationships
Disclosure
Yes, I have had a relevant financial relationship within the past 12 months.
Financial relationships:
Type of financial relationship:
Type of financial relationship:
Type of financial relationship:
Return to 2018 Antimicrobial Stewardship Research Workshop