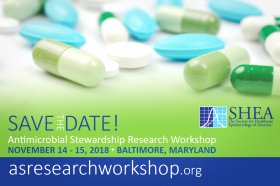 2018 Antimicrobial Stewardship Research Workshop
November 14, 2018

to

November 15, 2018
Make a difference in Antimicrobial Stewardship. Join us in Baltimore, November 14-15, 2018! 
View the Final Program here - 
SHEA-November-Workshop-Onsite-Program-2018.pdf
IMPORTANCE OF ANTIBIOTIC STEWARDSHIP RESEARCH
Modern medicine is largely dependent on the efficacy of antibiotics and other antimicrobials. Yet, the ability to treat infections successfully with antibiotics is hampered by resistance due to their overuse and misuse. Well-documented and properly coordinated strategies like stewardship of antibiotics, expanded surveillance of antibiotic resistance, investment in related practical research, as well as investment in new drug development and diagnostic testing can work to reverse this alarming trend.
All healthcare facilities can improve patient outcomes and antibiotic resistance trends by focusing on efforts to eliminate unnecessary antibiotic therapies and raising the patients' understanding of this issue. Implementing comprehensive programs to help providers optimize antibiotic use across healthcare settings is of great importance.
Antibiotic stewardship programs and interventions help ensure that patients get the right antibiotics at the right time for the right duration. In addition to improving patient care, there is also cost saving potential. Research into the full potential of antibiotic stewardship is critical in order to continue to make headways on the proper creation and implementation of these programs.
 
WHAT IS MERCK'S RELATIONSHIP TO THIS PROGRAM?
Merck provided an unrestricted grant to fund the educational development and deployment of this program. No employees of Merck were involved in program development. SHEA is the event organizer and planner of this educational opportunity independent of Merck.

Target Audience
Anyone across the healthcare continuum involved in antibiotic stewardship research efforts. This includes young investigators just starting out in their career to seasoned professionals looking to better understand the research metrics around stewardship initiatives in particular. Topics will be useful to anyone interested in how to design antibiotic stewardship research and how to apply and organize data related to antibiotic stewardship.
Learning Objectives
Provide a detailed overview of the various research methods available to assess antimicrobial stewardship
Design, implement and disseminate research projects related to antimicrobial stewardship efforts 

For more information, go to http://www.asresearchworkshop.org/
Royal Sonesta Harbor Court Baltimore
550 Light St
United States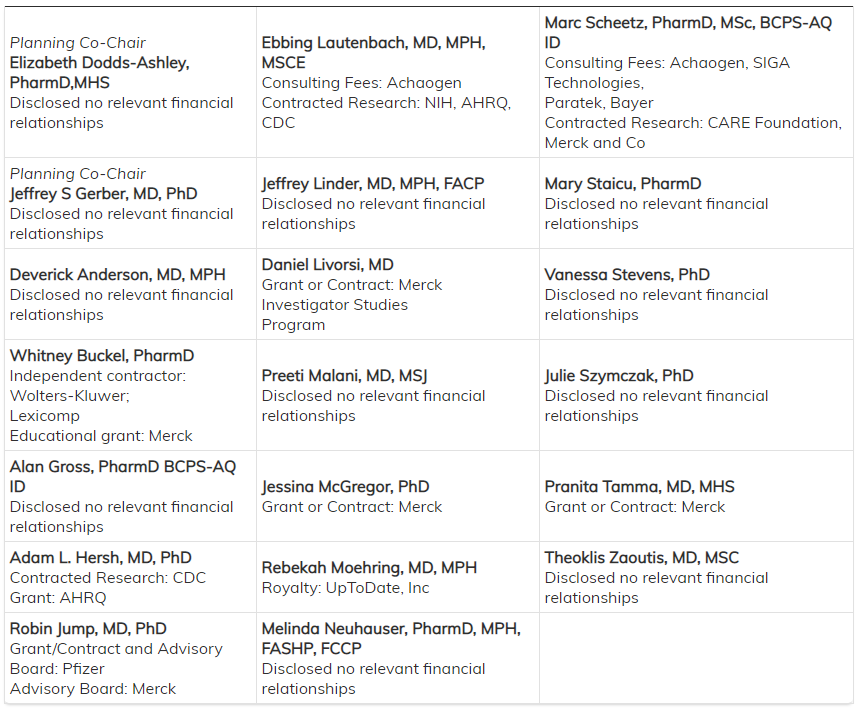 Post-Workshop Evaluation is now open!
Log in to your LearningCE
Find the ASRW course and click "Take Course"
Click "Resume Course"
Complete the evaluation and then download/print your certificate
PHOTO/RECORDINGS
By registering for the SHEA Antimicrobial Stewardship Research Workshop to be held in Baltimore, Maryland, you acknowledge SHEA could photograph, audio record, and/or visually record sessions and other workshop activities. SHEA may make use of such photographs and recording for purposes including creating, distributing, and transmitting copies of them, and/or promotional or advertising uses, without restriction of media.