Julia Szymczak, PhD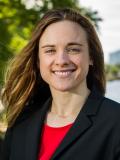 Julia Szymczak is an Assistant Professor of Epidemiology and Medicine at the University of Pennsylvania's Perelman School of Medicine and a Senior Scholar in the Center for Clinical Epidemiology and Biostatistics. She completed her doctoral training in sociology at the University of Pennsylvania and a postdoctoral fellowship in the Division of Infectious Diseases and the Center for Pediatric Clinical Effectiveness at the Children's Hospital of Philadelphia. Dr. Szymczak's research interests include medical sociology, work and organizations, patient safety, quality improvement and implementation science. She aims to understand how the social organization of medical work influences the uptake of standards, guidelines, and best practices. To date, Dr. Szymczak has examined various case studies of efforts to improve health care quality and patient safety in the United States, including resident duty hour restrictions and infection prevention practices. Her current research focuses on the nonclinical factors that shape antibiotic prescribing and the social factors that influence success in antibiotic stewardship.
Financial relationships
No financial relationships have been disclosed.
Return to 2018 Antimicrobial Stewardship Research Workshop