Melanie Brown, PhD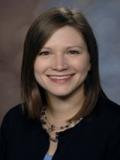 CV:
Download
(204.22 KB)
Dr. Stevens is an infectious diseases epidemiologist focusing on healthcare-associated infections, comparative effectiveness research, and antimicrobial stewardship research. She has a Bachelor's degree in Microbiology and a PhD in Epidemiology from the University of Rochester. She completed a postdoctoral fellowship in infectious diseases health outcomes research at SUNY Buffalo School of Pharmacy and Pharmacutical Sciences in 2012. She is currently a Research Assistant Professor of Epidemiology at the University of Utah School of Medicine and an investigator and director of the research methods core at the Informatics, Decision Enhancement, and Analytic Sciences (IDEAS) Center of Innovation located at the Salt Lake City VA Health Care System. Since 2010, she has trained and mentored more than 50 pharmacy and medicine students, residents, fellows, and junior faculty in research methods.
Financial relationships
No financial relationships have been disclosed.
Return to 2018 Antimicrobial Stewardship Research Workshop