John OHoro, MD, MPH, FACP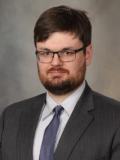 John C. O'Horo, M.D., M.P.H., F.A.C.P. is a board certified internist, intensivist and infectious disease specialist at the Mayo Clinic in Rochester MN. Dr. O'Horo has served as chief resident in his internal medicine residency program, and chief fellow in his critical care fellowship program. While in residency, he obtained a Master's in Public Health and worked part time with the electronic medical record implementation teams at Aurora Health Care to integrate computer physician order entry into their clinical practice. He served as chief fellow for his critical care training and was honored as the Research Fellow of the Year for Mayo Clinic as an infectious disease trainee. Dr. O'Horo joined the staff at Mayo Clinic in Rochester, Minnesota in August 2016. He serves as the quality chair for the division of infectious diseases, director of infection prevention and control data, and curriculum director for the Mayo Quality Academy. He has a continuing interest in infection control for critical care environments, in teaching and in applying Lean Six Sigma quality improvement methodologies within health care settings.
Financial relationships
No financial relationships have been disclosed.
Return to Quality Improvement for the Hospital Epidemiologist