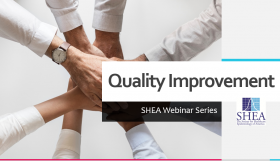 Quality Improvement for the Hospital Epidemiologist
The goal of this webinar series is to provide an overview of Quality Improvement terminology, techniques and tools for the Hospital Epidemiologist, and how these can be leveraged to achieve better patient safety and outcomes through the lenses of Antimicrobial Stewardship and Infection Control.
There are 5 Live Webinars in this series:
1. Our Place in Healthcare Quality

Live Webinar on 11/27/18 from 12:00-1:00 pm
 

2. We Can't Do It Alone: Forming, Storming, Norming and Performing with a Team

Live Webinar on 12/11/18 from 12:00-1:00 pm
 

3. Our Role in Creating a Culture of Safety

Live Webinar on 1/08/19 from 12:00-1:00 pm
 

4. Going from "Who" to "Why": The Root Cause Analysis

Live Webinar on 1/22/19 from 12:00-1:00 pm
 

5. Intelligent Design: Human Factors for Infection Control and Antibiotic Stewardship

Live Webinar on 2/05/19 from 12:00-1:00 pm
The recorded webinars and PowerPoint presentations will be posted in this course the day after the Live events.
Target Audience
These webinars are geared towads Hospital Epidemiologists, Infection Control leaders, Infection Preventionists, and Antimicrobial Stewardship leaders.
Learning Objectives
Discuss ways Quality Improvement methods can increase the effectiveness of the Hospital Epidemiologist.
Discuss the role that the Hospital Epidemiologist plays in hospital quality and safety.
Implement strategies to effectively define problems and translate that information to sustainable interventions to prevent healthcare associated infections and reduce antibiotic resistance. 
 
© 2019 by The Society for Healthcare Epidemiology of America. All rights reserved.
Successful Completion Statement:
Participants are expected to claim only those hours spent in the educational activities approved for continuing education credit.
Available Credit
5.00

AMA PRA Category 1 Credit™

The Society for Healthcare Epidemiology of America is accredited by the Accreditation Council for Continuing Medical Education (ACCME) to provide continuing medical education for physicians.
Instructions:
Purchase the series or individual webinars by checkig the boxes (if you are not directed to checkout, click the shopping cart icon in the top-right corner)
Click "Take Course"

*

Be sure to click "Join Webinar" in order to register and recieve email directions and reminders before the live event 
After listening to the Webinar, take the Post Test
Download or print your certificate