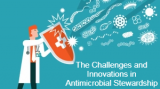 Utilizing antimicrobial stewardship (AS) to properly use antibiotics is critical for all healthcare settings to decrease antibiotic resistance, reduce the development of multidrug-resistant organisms, and put the patient first.
Category
Antimicrobial Resistance and Antibiotic Stewardship
Credits

As COVID-19 has shown, communication and trust with the public are essential for healthcare professionals. This multi-part podcast series will focus on how HCPs can communicate not only with their patients, but also the public.
Category
Antimicrobial Resistance and Antibiotic Stewardship
Infection Prevention and Control
Preparing and Responding to Emerging Infectious Diseases and Outbreaks
Surveillance and Public Reporting
Credits