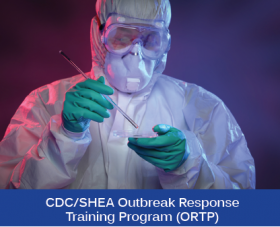 SHEA/CDC Outbreak Response Training Program (ORTP)
This program is designed to give US hospital epidemiologists who oversee infection control programs the skills, knowledge, and tools to provide effective leadership during facility-level outbreaks and large-scale public health emergencies.
Target Audience
This activity is designed to train US hospital epidemiologists who oversee infection control programs to have the skills, abilities, and tools available to implement infection control practices and respond to infectious threats.
Learning Objectives
At the conclusion of this activity, participants should be able to:
Discuss lessons learned from prior outbreaks in order to prepare for emerging infections

Describe currently emerging infectious diseases that are most likely to cause outbreaks, and implement screening procedures that would identify potential patients.

Critique existing infection control policies and procedures and recognize gaps.

Prepare a communication plan in order to communicate effectively with the public and media during the next outbreak/crisis.

Define the role of the hospital epidemiologist in public health emergencies.

Apply and evaluate current screening methods used to identify potential public health emergencies.

Determine strategies to ramp up, step down, and maintain emergency preparation and containment efforts for high-consequence infection pathogen.
The ORTP Advisory Panel:
As part of the Discovery Phase and on an as needed basis, the Advisory Panel will conduct a technical review of additional CDC training and educational tools. Upon majority consensus by the Panel, the materials will be added to those considered for the projects and/or promoted through SHEA's and stakeholders' channels.
Judith Guzman-Cottrill, DO, Chair, Oregon Health & Science University
Muhammad Ashraf, MD, East Carolina University
Yoko Furuya, MD, New York-Presbyterian Hospital (NYP) Columbia University Medical Center
Nicole Iovine, MD, University of Florida
Susy Hota, MD, MSc, University Health Network, Toronto, Canada
Jesse Jacob, MD, MSc, Emory University
Amy Kressel, MD, Indiana University School of Medicine
Larissa May, MD, MSPH, University of California-Davis
Rehka Murthy, MD, Cedars-Sinai Medical Center
Ann-Christine Nyquist, MD, University of Colorado School of Medicine Children's Hospital Colorado
Belinda Ostrowsky, MD, Montefiore Medical Center & Albert Einstein College of Medicine
Nasia Safdar, MD, PhD, University of Wisconsin Health System University of Wisconsin-Madison
Heather Young, PhD, MPH, Denver Health Medical Center
Kavita K. Trivedi, MD, Content Advisor, Contract Consultant, Trivedi Consults, LLC
The ORTP Education Panel:
The Education Committee Panel will review and plan all educational related materials developed in relation to the ORTP.
Jennifer Hanrahan, DO, MA, Co-Chair, MetroHealth Medical Center
Christopher Pfeiffer, MD, Co-Chair, VA Portland Health Care System
Jason Bowling, MD, University of Texas Health Science Center San Antonio
Bernard Camins, MD, UAB Health System and University of Alabama at Birmingham
Teena Chopra, MD, MPH, Detroit Medical Center/Wayne State University
Susan Coffin MD, MPH, Children's Hospital of Philadelphia/UPENN
Christina Gagliardo, MD, Maimonides Infants & Children's Hospital of Brooklyn and Albert Einstein College of Medicine
Waleed Javaid, MD, SUNY Upstate Medical University
Stephen Liang, MD, Washington University School of Medicine/ Barnes-Jewish Hospital
Nicholas Moore, MS, MLS, Rush University Medical Center
Priya Nori, MD, Montefiore Health System, Albert Einstein College of Medicine
Aurora Pop-Vicas, MD, University of Wisconsin Hospitals; University of Wisconsin School of Medicine and Public Health
Cindy Prins, PhD, MPH, University of Florida
Geeta Sood, MD, Johns Hopkins University
Kavita Trivedi, MD, Contract Consultant, Trivedi Consults, LLC
Lisa Winston, MD, University of California, San Francisco / Zuckerberg San Francisco General Hospital and Trauma Center
The ORTP Expert Writing Panel:
The SHEA expert guidance format was developed specifically for healthcare epidemiologists' roles and responsibilities, in order to provide concise evidence-based and expert-led guidance and implementation strategies for infection prevention. For this project, these recommendations will be derived from CDC and public health prevention guidelines and tool kits, implementation tools, and best practices recommendations that address preparedness and response to infectious diseases outbreaks.
David Banach, MD, MPH, MS, Co-Chair, University of Connecticut Health Center
Lynn Johnston, MD, Co-Chair, Dalhousie University
Duha Al-Zubeidi, MD, Children's Mercy Kansas City
Allison Bartlett, MD, MS, University of Chicago Medicine Comer Children's Hospital
Susan Bleasdale, MD, University of Illinois in Chicago
Kyle Enfield, MD, University of Virginia
Christopher Lowe, MD, MSc, Providence Health Care
Luis Ostrosky-Zeichner, MD, McGovern Medical School
Kyle Popovich, MD, Rush University Medical Center
Payal Patel, MD, Veterans Affairs Ann Arbor Healthcare System
Karen Ravin, MD, MS, Nemours/Alfred I. duPont Hospital for Children
Theresa Rowe, DO, Northwestern University
Erica Shenoy, MD, PhD, Massachusetts General Hospital
R. Scott Stienecker, MD, Parkview Health System
Pritish Tosh, MD, Mayo Clinic
Kavita K. Trivedi, MD, Content Advisor, Contract Consultant, Trivedi Consults, LLC